Welcome to my first blog post of the year! It's been a while, thank you for joining me! Grab a hot drink and get cosy, I have stories to share :)
THE EVOLUTION OF AN IDEA
Let's start from the beginning.

In the summer of 2014 I had an opportunity to "rescue" discarded flowers. I would come home from work with armfuls of flora and foliage that I scavenged from the bins of a local florist. Very quickly, I began to accumulate quite the collection of left over Eucalyptus Gunnii stems, these are quite popular in floral bouquets. I was drawn to the blue/silvery toned stems which I let dry out and was so pleased to find that they still maintained that pretty sheen.

At this point of my personal photography growth I was still finding my way and my voice. I wanted to keep my set up as simple as possible, often just the model and I, and to create any dresses or props from the materials I had laying around me.

Cloaks are often featured in the fantasy genre. They represent a journey, an adventure, mystery, status, evasiveness, power, and so much more. I found this piece of garment to be quite fascinating and wanted to build upon it with my own take. I ordered a simple black velvet cloak from eBay and decided that I would use all the leaves that I'd collected (let's be honest hoarded!), and together they would create a piece that would introduce a sense of status to my initial, delicate characters.
Building up the cloak with my trusty glue gun :)

I wanted my character to connect with the earth as well as step into a new power of her own. I realised that vision in my picture titled Summer Lingers created at the cusp of Autumn in 2014.

The location was in a tiny alleyway in a country village. I'd been waiting for the perfect moment to capture this wall, green ivy leaves clinging to summer while giving way to deep red and purples. The light was fading as we captured this. I found myself completely submerged in the bush opposite so that I could capture the frame I envisioned. It was a tight squeeze, disrupted a few spiders I'm sure, but completely worth it!

A Queen was born.
In 2015 as the warm spring winds pushed winter away, I held my first workshop. It was the first time I was going to teach and share all that I'd learnt so far in my photography journey. I wanted to bring a little bit of magic to it, to keep it as real and authentic as possible. The upcoming Spring season inspired me to build upon the next phase of this cloak.

Dead hydrangea heads from my garden lead the way towards bright coloured flora. Spring, my favourite season, was coming and I wanted to celebrate it.
I knew I wanted to create a piece that welcomed the power of my personal bloom too. After being immersed in my In Bloom project for about 9 months I was finally finding strength and power in my own abilities and a soft feeling of self belief that had been elusive for so long. That's not to say that I was suddenly confident in myself, actually far from it, but I was done holding myself back. This was the year I committed to being a full time artist.
New Queen Rising was born along the back wall of Chestnuts Park, London. If you've been there you might notice it's mostly just grass and overgrowth along the edges. I found beauty in the creeping ivy and hanging winter branches with their unfurling baby leaves. I could already see in my mind how the dark and light tones would compliment the character I wanted to bring to life in this unlikely location. I get so excited when I feel a spot has potential.

When I finally worked this piece up, a picture celebrating growth, strength, nature, rising, I nearly cried. It was everything I wanted it to be and so much more. And it couldn't have existed if it wasn't for that initial idea in 2014.

Later that year this picture, and Summer Lingers, were selected to be sold as limited editions at Transform gallery in New York.
2016 saw my flower collection continue to grow and grow. I created art in the moments between travel and commissioned work and by the end of the year I was left with an abundance of dried roses and all kinds of foliage.

Winter doesn't offer much when it comes to fresh blooms and new life. I decided to combine all my leftover flowers with the cloak to create an evolution of the character from the last couple of years. A picture that captures my love of Spring, of new journeys and the strength of womanhood.
A quiet Spring in Winter is how I like to think of the concept of this picture. There's a particular tree in the UK that blooms tiny little flower buds in mid January. I noticed it happened last year too. Seeing those little buds unfurling bravely in the frost lifts my heart.
I quite like thinking of Spring beginning in January. We make resolutions and start thinking about the steps we need to take to make our big, and small, dreams come true. We sow the seeds for the year's growth.

For this picture I reached out to Ella Rose, a friend and model whom I've worked with before. She has such lovely striking eyes and I could see her fit this role perfectly.

Videographer Richard Wakefield captured the behind the scenes video so beautifully that frosty morning. Working with him is always a pleasure. He's like a little ninja in the background, discretely filming all the little moments. He's so good that a control freak like myself feels completely comfortable focusing all my attention on my role and I know that he will deliver a video that will take my breath away.

A memorable moment that morning was running into Andrew Walmsley as he flew his drone. Neither Richard and I knew him, but we decided to introduce ourselves and ask if he would mind capturing some drone footage for us. He very kindly agreed and as we talked further we discovered him to be a fellow photographer with a passion for trees and wildlife. Needless to say, I liked him immediately! All of us meeting like this at eight something in the morning at the same location felt like those lovely moments in life when everything synchs together beautifully. We were all where we were supposed to be.

And so the shoot began!

To me, Winter's wildflower is a tale of strength, empowerment, resolution, journeys, new adventures, explorations, and untold stories.

It is my love letter to Spring.
DETAIL CROPS
The quality of the Phase One camera system is truly in a class of its own. The detail and sharpness of the image brings a level of sophistication that truly makes it a pleasure to edit with. I also love the leeway it gives me in the colour toning process. I can push, pull, and layer colour tones until I reach a point that I'm happy with. I mention it because I can honestly say that it's taking my work and attention to detail to another level.

I didn't have enough flowers to completely create the vision I had, and that's where Photoshop came in! Each picture took about two days each to edit.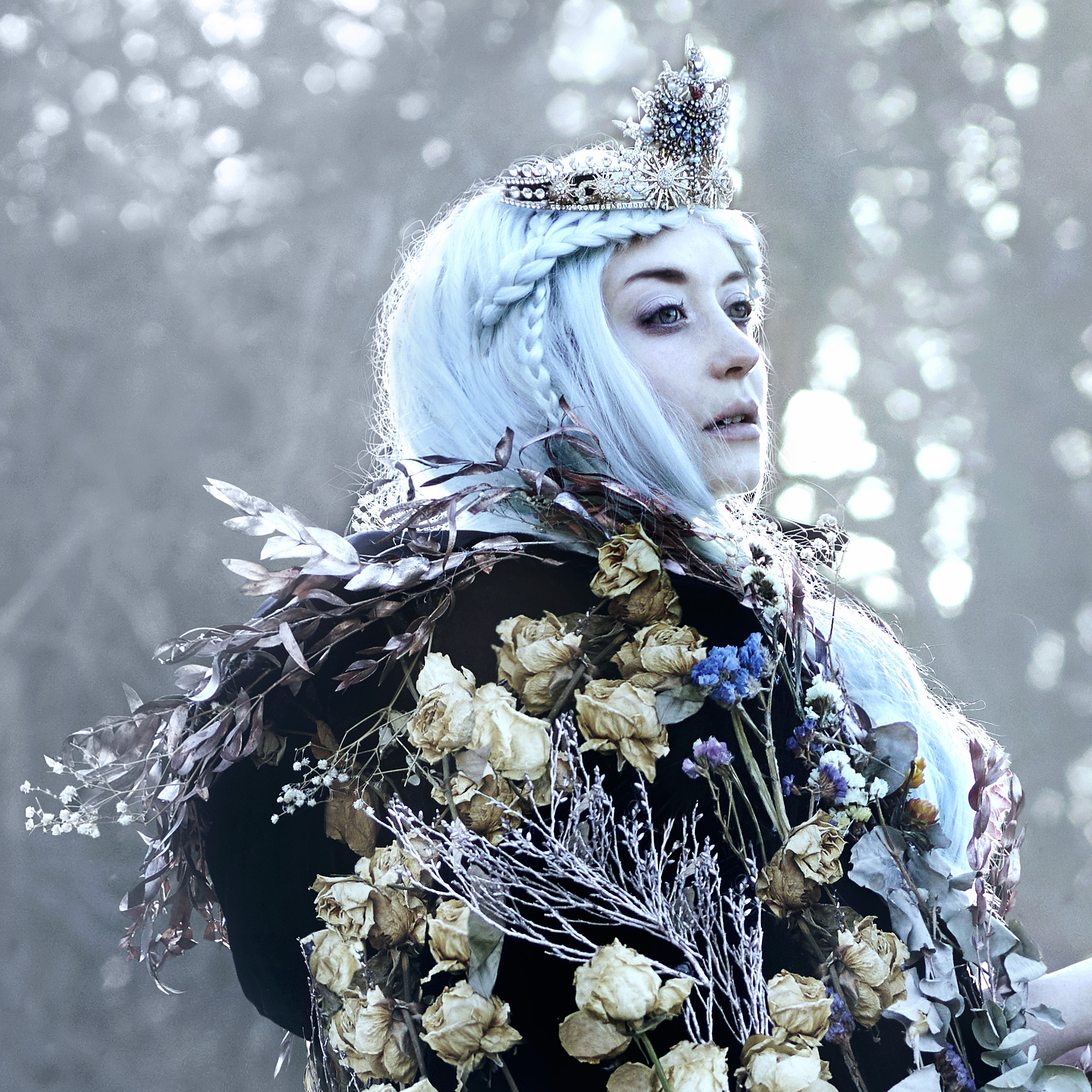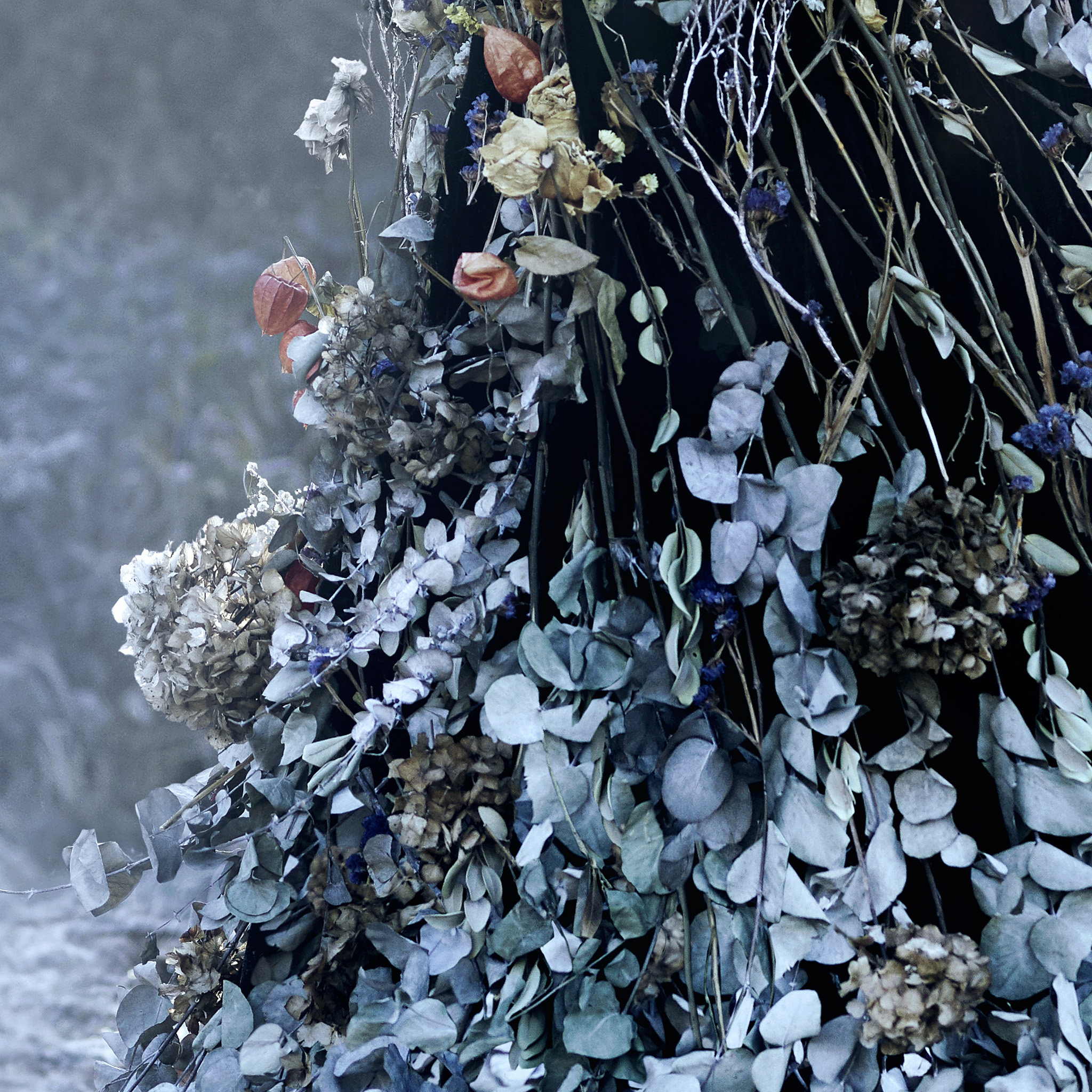 I've come a long way from the first picture with this cloak in 2014 and I'm looking forward to seeing what lies ahead.

Thank you Phase One for all your support in my artistic endeavours. Thank you to Richard for capturing the moments so beautifully. Thank you Ella for channelling your inner Queen despite your fingers going numb. Thank you Andrew for saying yes to perfect strangers. Thank you Pratik my love, for your support and endless light. And Thank You to all of you! For all your kind words, encouragement, and support! I'm very blessed to have an awesome internet family!